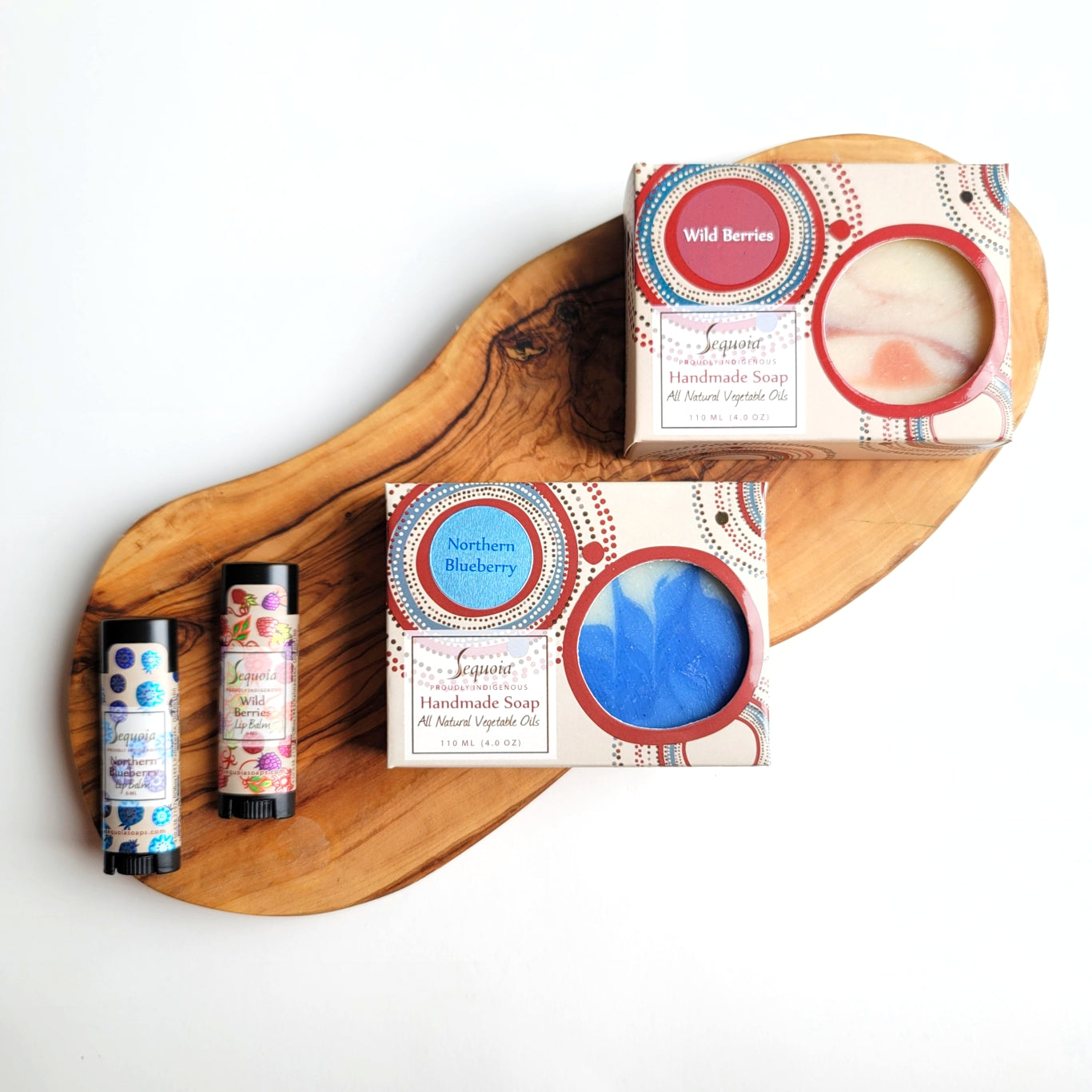 This Bundle contains our Northern Blueberry Soap and Lip Balm and our Wild Berries Soap and Lip Balm. If you love Berries at all, you need this Bundle!
• 1 - Northern Blueberry Lip Balm ($8)
• 1 - Northern Blueberry Soap ($14)
• 1 - Wild Berries Lip Balm ($8)
• 1 - Wild Berries Soap ($14)
Description: Inspired by the picking of wild raspberries and blackberries behind my Mohawk Territory home in northern NY and picking wild blueberries as an adult in northern Mohawk Territory in the Laurentians.
If you have a chance to get out in nature, northern wildberries, including blueberries will be out of season soon as they're only around from June to early September. Just like real North wildberries and blueberries, Sequoia's Northern Blueberry soap and lip balm and Wildberry lip balm are limited editions, so get yours today.
A bundle of 2 lip balms and 2 soaps, value of $44 for $38 [Savings of $6]
Details: A limited edition bundle.
Ultimate Berry Bundle
The feeling of the soap on my skin is amazing. The scents are reminiscent of having a handful of berries in my hands!! So nice to have vegan options and to support an Indiginous business!!
Stolen!!
Unfortunately I cannot review the products. They were stolen from the Canada Post mailbox and I am waiting for you to file a claim in order to have it replaced.
The svent is amazing and relaxing.
Yummy!
Got this as gifts for my friends. They luv it! I already had the strawberry, which I also luv. ❤️ Ty for your amazing products.
Fresh and Refreshing Blueberry Soap
A beautiful and aromatic scent. It filled my shower stall. It was like being in a blueberry patch.
My husband commented on how well the soap lathered up.
One of our new favourite soaps from the Sequoia Soaps collection.