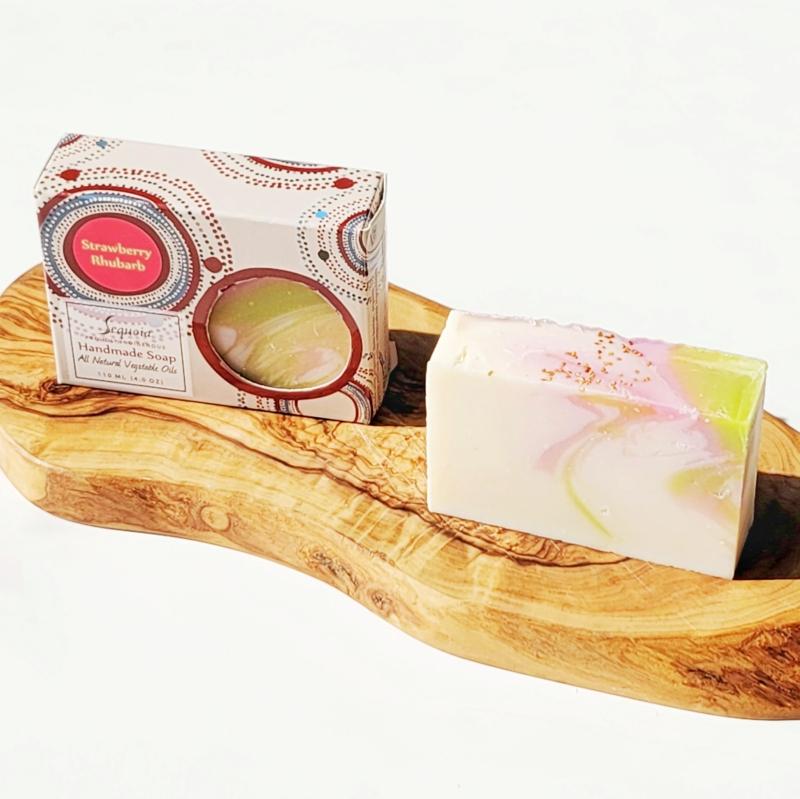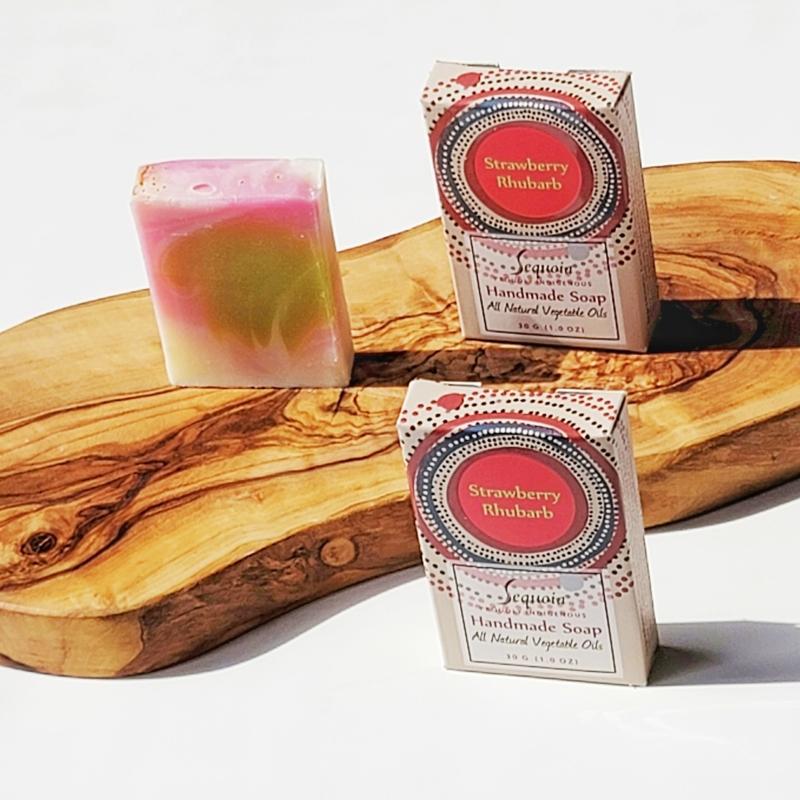 Scent Family: Fruity
Description: Strawberry + Tart Rhubarb
Details: Wow, we could not believe the response when we created this soap this summer. Sweet but tart at the same time, the name itself describes it perfectly. Strawberries are a very important little plant in the Iroquoian culture.
• hydrates dry skin
• made with organic shea butter
• made with organic castor oil
• 98% natural ingredients
Directions: Use daily in bath or shower. For a longer lasting bar make sure you do not leave in a puddle of water where the soap may become soggy. Or even better, alternate between 2 bars so that there is an extra day of drying time between uses.
Size/Weight: 4 oz
Ingredients: Canola Oil, Water, Coconut Oil, Olive Oil, Sodium Hydroxide, Organic Shea Butter, Organic Castor Oil, Stearic Acid, Fragrance Oil, Titanium Dioxide, Hydrated Chromium Green Oxide, Strawberry Seeds, Red 33, Yellow 6
• Natural Ingredients
• Safe Synthetics
Love it
Nice sweet/tart smell, love the strawberry seeds(?) sprinkled on top, looks and feels nice. The lather is great, and the general soap feel during and after use is the best. I will say I expected it to stay completely hard for longer than it did. After using it daily, it's become smushable on one side. (I don't remember if this is normal for bar soaps though.)
Smells Like Summer
I loved the strawberry face scrub and I love that strawberry rhubarb soap pairs perfectly with it! It smells amazing, sweet like summer.
love it
love the smell and the lather!!!
Ordered a variety of soaps as stocking stuffers. Haven't personally tried them yet. They smell fantastic and the packaging is beautiful.
Love this soap
Fresh scent that makes my bathroom smell amazing and my hands soft and clean.