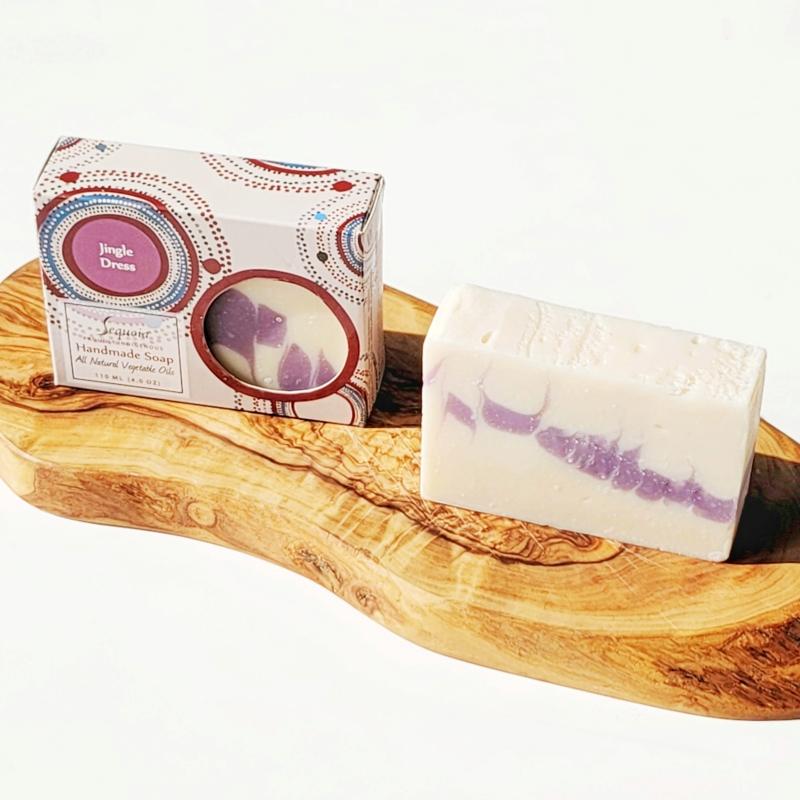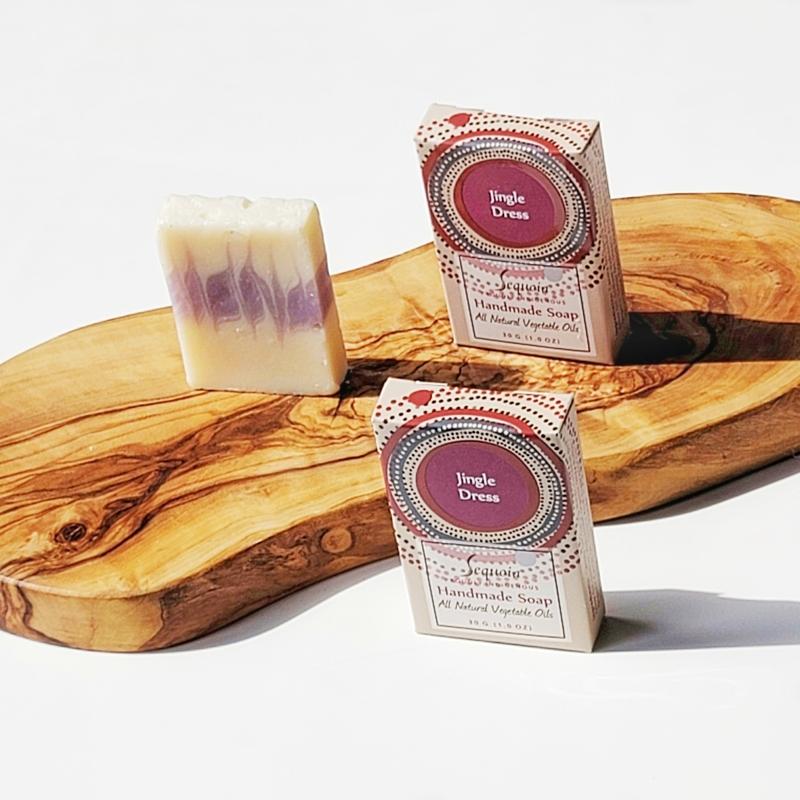 Scent Family: Fruity/Floral
Description: A warm blend of berries + flowers + hint of perfume
Details: New!! This soap was inspired by the Jingle Dress Dance. Originally it started as a "healing dance" and can be seen at many powwows across North America. To read up a little on the history and see some videos, click here.
This soap is a sweet and soft mix of raspberry, red currant, tulip, freesia, heliotrope, rose, cashmere musk, vanilla, and amber. This is a complex mix with just a hint of perfume undertones. Very different than any other soap that we've made before.
• hydrates dry skin
• made with organic shea butter
• made with organic castor oil
• 98% natural ingredients
Directions: Use daily in bath or shower. For a longer lasting bar make sure you do not leave in a puddle of water where the soap may become soggy. Or even better, alternate between 2 bars so that there is an extra day of drying time between uses.
Size/Weight: 4 oz
Ingredients: Canola Oil, Water, Coconut Oil, Olive Oil, Sodium Hydroxide, Organic Shea Butter, Organic Castor Oil, Stearic Acid, Fragrance Oil, Ultramarine, Titanium Dioxide
• Natural Ingredients
• Safe Synthetics
Great!
I've used this soap before, and I enjoy the scent!
Lovely and Subtle
This is such a lovely, subtle scent, soft notes of floral and perfume. It feels so smooth too! Glad I got a full bar so it can last a while. I would recommend Sequoia Soaps to anyone looking for a new soap or scent to fall in love with.
love this soap
This is my favourite Sequoia soap (though all of the soaps are great too). Love the scent, love the colours, love the way it lathers.
A family favourite!
My daughter and granddaughter (aged 5) as well as myself consider this one of our favourite fragrances that you create. We have purchased Jingle Dress soap and bath bombs & hope that you will soon be offering a lotion in this fragrance.
New number 1
Jingle Dress soap is my new favourite with Sweet Grass coming in a very close second. All of your soaps I have used are delightful.