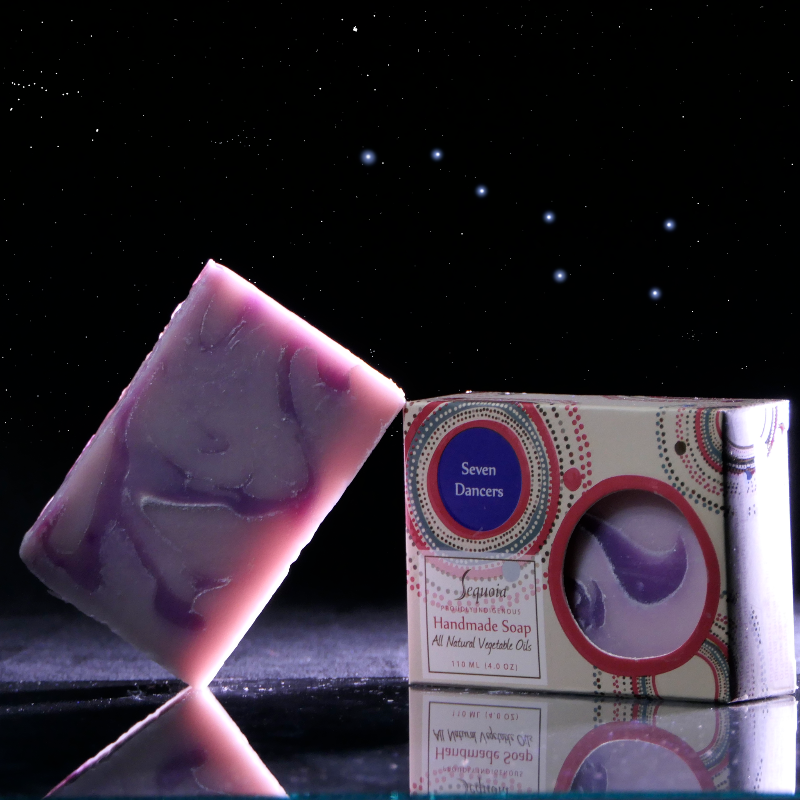 *You can also find our Seven Dancers Soap in our Night Sky Four Soap Gift Set.*
Scent Family: Citrus Blend / Hint of Floral

Description: Our custom blend of citrus such as grapefruit, orange, lemon, balanced with raspberry, red currant, tulip, freesia, heliotrope, rose, cashmere musk, vanilla, and amber
Details: The inspiration for our Seven Dancers Soap is the legend of the stars. The constellation Pleiades or it could be the Big Dipper is also known as the 7 Dancers. Officially launching on December 21 (Winter Solstice), the longest night of the year when 7 Dancers are visible longest. This is a complex blend (fruits and floral) with hints of citrus. 
There are many different versions of the Seven Dancers,  Our Seven Dancers Soap has the glimmer in it, representing the start, in a light purple night sky. This is a wonderful winter soap.
Here are some of our favorite versions: Legend 1, Legend 2, Legend 3
• hydrates dry skin
• made with organic shea butter
• made with organic castor oil
• 98% natural ingredients
Directions: Use daily in bath or shower. For a longer lasting bar make sure you do not leave in a puddle of water where the soap may become soggy. Or even better, alternate between 2 bars so that there is an extra day of drying time between uses.
Size/Weight: 4 oz / 1 oz
Ingredients: Canola Oil, Water, Coconut Oil, Olive Oil, Sodium Hydroxide, Organic Shea Butter, Organic Castor Oil, Stearic Acid, Fragrance Oil, Titanium Dioxide, Mica, Blue #1
• Natural Ingredients
• Safe Synthetics
Soaps from Heaven
I've purchased many soaps and each one has been enjoyed tremendously. Gifted to many family and friends as well. Eve try one loves them. Thanks so much.
1 oz soap
A soft and comforting scent!