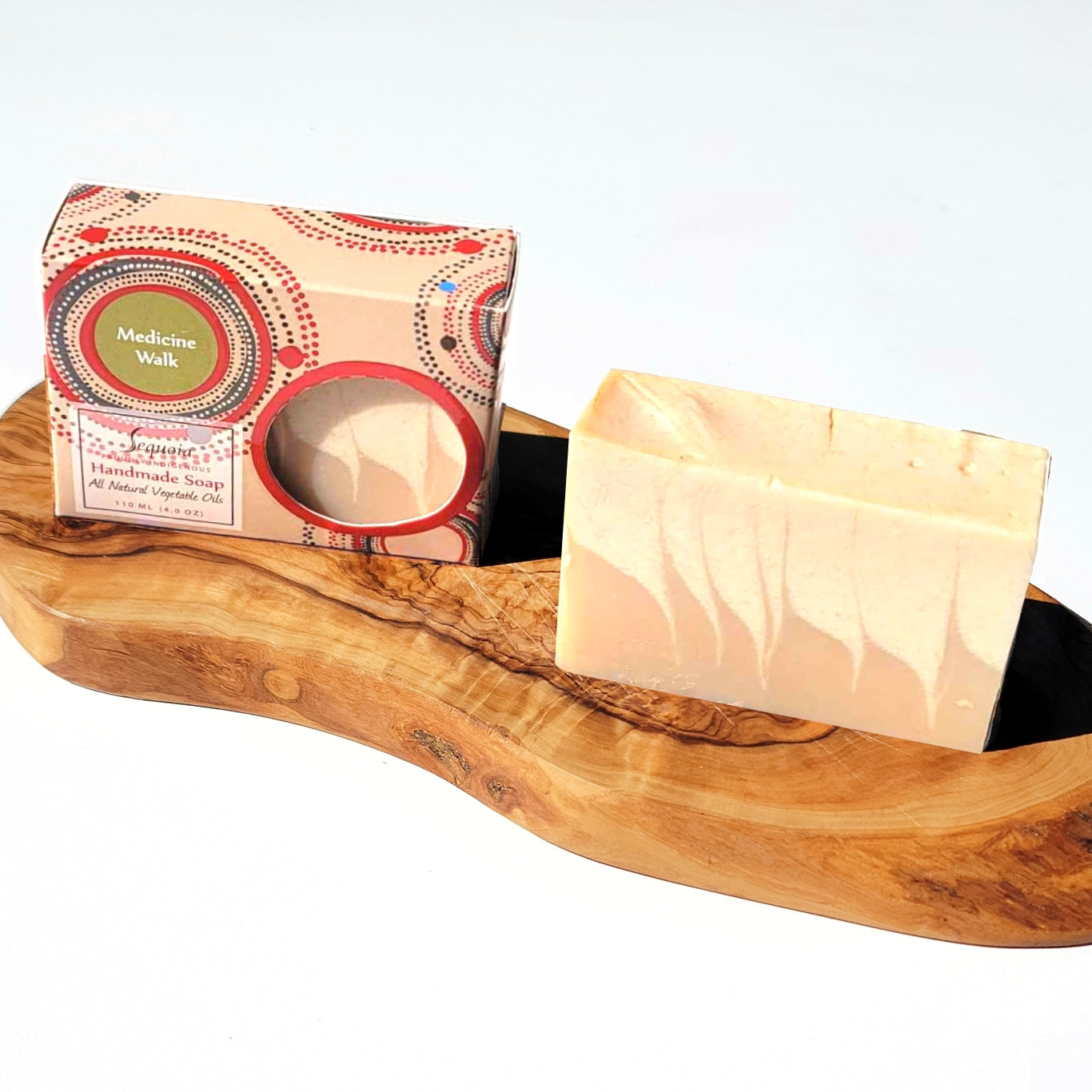 Medicine Walk Soap ***Limited Edition***
Limited supply: Only 400 bars available. Don't miss out if you are thinking about it!
Scent Family: Woodsy
Description: Blue Spruce with notes of sugar
Details: Have you ever gone on a medicine walk? Just walking through nature to discover what medicines are growing around you? It's almost as if they were hidden before, but now that you are looking, you realize that nature was holding all kinds of medicines for you to discover when you start to look. 
This soap smells like walking through a forest.  Spruce and pine are predominant but there is also a hint of something special for you to discover. ...Just like a medicine walk.
• hydrates dry skin
• made with organic shea butter
• made with organic castor oil
• 98% natural ingredients

Directions: Use daily in bath or shower. For a longer lasting bar make sure you do not leave in a puddle of water where the soap may become soggy. Or even better, alternate between 2 bars so that there is an extra day of drying time between uses.

Size/Weight: 4 oz / 1 oz
Ingredients: Canola Oil, Water, Coconut Oil, Olive Oil, Sodium Hydroxide, Organic Shea Butter, Organic Castor Oil, Stearic Acid, Fragrance Oil, Titanium Dioxide
• Natural Ingredients
• Safe Synthetics
Awesome Natural Soap!!!
I love Sequoia soaps and use them every day as well as give them for gifts. Everyone I've shared them loves them as well. We all love the fact that they're made from natural ingredients and are so delightful and nourishing as well as the fact that they're made by an Indigenous woman owned and run business. Thanks for such exquisite products, Sequoia!!!
Fresh!
Light, fresh scent. Like walking in the woods after a summer rain. xo