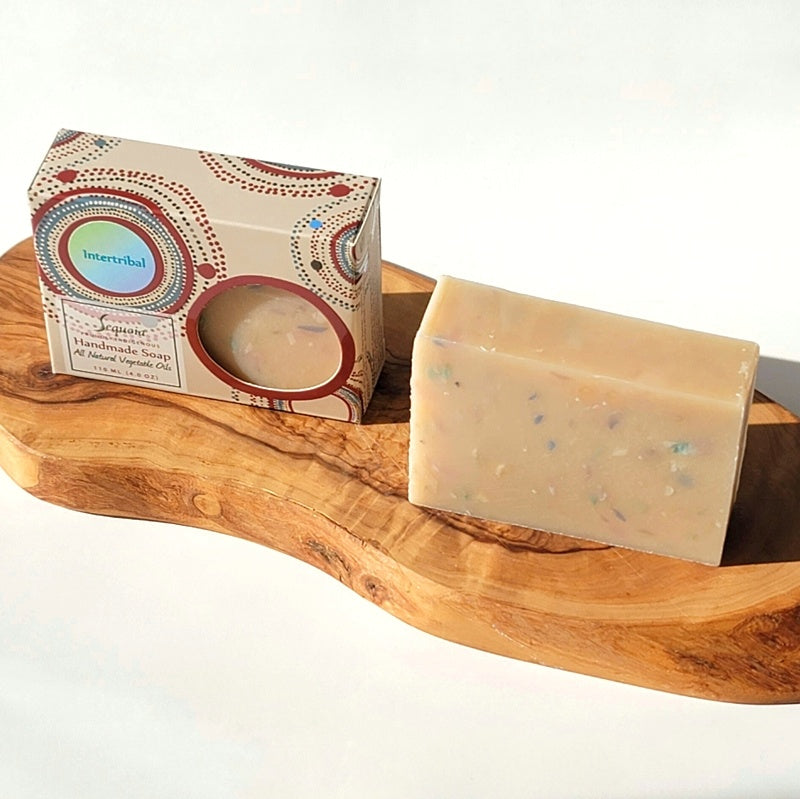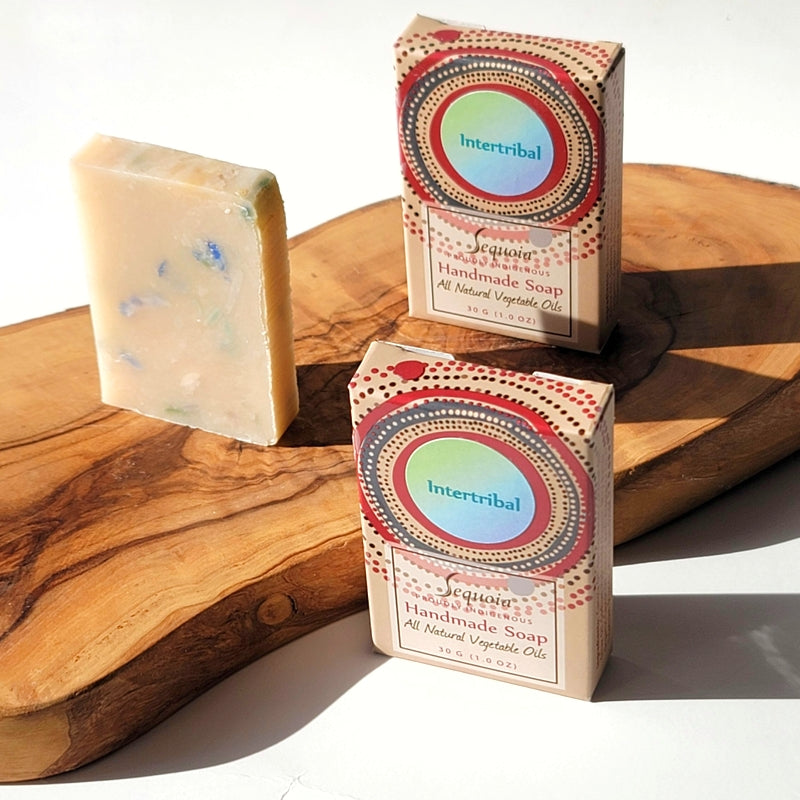 Intertribal Soap ***LIMITED EDITION***
Scent Family: Comfort Scents
Description: Top fleeting notes of blueberry, white freesia, wild grape, with middle notes of, lily, magnolia, green vines, and base notes of cashmere, and violet.
Details: At Powwows, the Inter-Tribal is the bringing together of all people and cultures for one special dance. All dancers of all types come together and the look and feel is a varied mix of colors and styles. This is what our Intertribal soap looks like.

We literally took the shavings of every single soap made since last June, saved them and put them all together into one batch, instead of them going to waste. The colors are mixed and the scent is quite unique. 

When I first started Sequoia, I hit the powwow trail to sell my soaps. This one soap brings together my past connection with powwows and my connection with our mother the Earth.
• hydrates dry skin
• made with organic shea butter
• made with organic castor oil
• 98% natural ingredients
Directions: Use daily in bath or shower. For a longer lasting bar make sure you do not leave in a puddle of water where the soap may become soggy. Or even better, alternate between 2 bars so that there is an extra day of drying time between uses.
Size/Weight: 4 oz / 1 oz
Ingredients: Canola Oil, Water, Coconut Oil, Olive Oil, Sodium Hydroxide, Organic Shea Butter, Organic Castor Oil, Stearic Acid, Fragrance Oil, Soap Shreds
• Natural Ingredients
• Safe Synthetics
Awesome Natural Soap!!!
I love Sequoia soaps and use them every day as well as give them for gifts. Everyone I've shared them loves them as well. We all love the fact that they're made from natural ingredients and are so delightful and nourishing as well as the fact that they're made by an Indigenous woman owned and run business. Thanks for such exquisite products, Sequoia!!!